You have complex products, face challenging regulatory climates and multi-faceted buying processes. Are your industrial marketing strategies keeping up? We bring the experience, expertise and proven marketing strategies within the industrial sector to deliver on your business goals.
As an industrial-sector organization, you need to acquire new customers while keeping your freedom to operate (FTO) intact. Standing Partnership understands the importance of that.
Sales cycles on six-figure, customized solutions stretch from months to years and involve a team of knowledgeable decision-makers concerned about the return on investment. Do you have the strategy, the team, and the supporting marketing and sales infrastructure to reach your revenue targets? That's where we come in.
We want your organization to rely on us to identify your growth drivers, develop your go-to-market strategy, and create sales enablement materials that clearly articulate the value proposition of your products and technologies. Our team navigates complex industries with ease and can take your business from strategy, through implementation to your desired results.
On the flip side, your industrial company may face issues related to your environmental legacies or complex regulatory requirements. We help your organization maintain your freedom to operate through issues management, crisis preparedness and response, stakeholder engagement, and sustainability reporting.
With Standing Partnership at your side, you can stay focused on providing innovative solutions for your customers. We'll help you get there.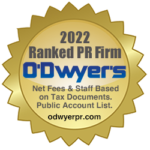 Client Success | Industrial
Let's work together.
Contact us to explore how we can help you kick start vertical marketing.