Amid growing scrutiny over where our food comes from, your agriculture communications and marketing strategies are more important than ever. As one of the top agriculture public relations firms in the nation, Standing Partnership is proud to help your agriculture organization grow while addressing public concern around the food production issues that matter most.
Did you know that just over one percent of Americans farm? This has created a great disconnect between those who grow food and those who consume it. That's why it's essential that all parts of the food value chain, from farmers to technology companies, processors, food manufacturers, and retailers do their part telling consumers how their food is made. We help you tell that story in a relatable and convincing way.
We help you understand what stakeholders expect and how you can meet those expectations through your business practices, environmental and social impact, and transparent engagement.
We are living in a "reputation economy" where who your organization is matters as much or more as what your organization sells. Your established agribusiness or AgTech start-up can rely on Standing Partnership to connect with your stakeholders, uphold brand reputation and safeguard your freedom to operate. We are a trusted agriculture communication and marketing partner.
Need help getting started? We have you covered. Whether your focus is on advanced breeding technologies, biologicals, biotechnology, crop protection, precision ag, or animal nutrition, we have deep experience to help you achieve your business goals. Our agriculture experts will help you articulate your value proposition, get your message out to prospective customers and the value chain, anticipate and mitigate issues, and secure regulatory approval for your products.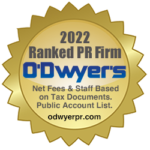 Understanding the Agriculture Space
Standing Partnership helps organizations connect with traditional audiences and identify new spaces where they need to show up. Stephanie Regagnon, Former Chief Executive Officer of FieldWatch, shares her experience working with our experts.
Client Success | Agriculture
Let's work together.
Contact us to explore how we can help you kick start vertical marketing.