Standing Partnership
November 15, 2023
Combined Company Becomes One of Largest 100% Employee-Owned Communications Firms in United States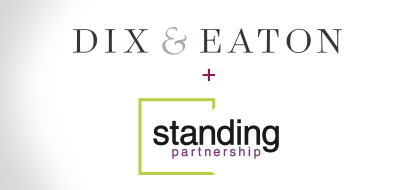 Dix & Eaton, the 71-year-old strategic communications firm, today announced the acquisition of Standing Partnership, a 32-year-old, St. Louis-based marketing communications consultancy. The acquisition became effective November 1, 2023. Terms of the transaction between the two privately owned firms will not be disclosed.
Dix & Eaton, which converted to a 100% Employee Stock Ownership Program (ESOP) beginning in 2014, is adding all current Standing Partnership associates into its current ESOP Trust. The combined organization will have more than 70 associates in 10 states across the United States, with plans to maintain or expand staffing levels and keep both headquarters locations in Cleveland and St. Louis. The combined entity will rank among the 30 largest agencies in the United States and is among the largest 100% employee-owned communications firms in the country.
"Our two firms share very common cultures, rooted in great client service with a concerted emphasis on the success and growth of our people," said Chas Withers, Dix & Eaton Chairman and CEO. "We have complementary offerings where we're already national leaders. The strategic combination of our two organizations will enable us to bring an even wider range and depth of experience, capabilities, service offerings and insights to our clients."
Dix & Eaton will have two operating groups: Dix & Eaton and Standing Partnership. The two groups have complementary and adjacent offerings in a number of key areas – marketing communications, public relations, sustainability/ESG (environmental, social, governance) communications, stakeholder engagement, change communications, and crisis communications/issues management. The combined organization offers distinctive expertise in several complex and highly regulated industries, including manufacturing, technology, aviation, specialty chemicals, agribusiness, health care, professional services and more.
Withers said initial plans for the combined organization include a continued focus on value and excellence for existing clients and the coordinated pursuit of growth opportunities, especially around Standing Partnership's strength in driving sales enablement. "Their distinctive offerings in lead generation, marketing automation and content marketing have been huge value drivers for their clients – including major national brands – and we're especially interested in leveraging that capability across the entire D&E enterprise," he said.
Melissa Lackey, who was majority owner and CEO of Standing Partnership, said Standing was drawn to Dix & Eaton because of the cultural alignment, immediate and long-term opportunities to expand reach as well as the appeal of employee ownership for the team.
"We're very excited about joining Dix & Eaton – a firm we've successfully partnered with and have had great respect for over the years. We see an incredible opportunity to leverage our individual strengths and create a powerhouse consultancy," Lackey said. "Being able to do so with a firm that shares similar values presented us with a unique opportunity to scale our business."
Withers is Chairman and CEO of the newly formed combined entity. Lackey and Lisa Rose, currently President of Dix & Eaton, have become group presidents for Standing Partnership and Dix & Eaton, respectively. Jim Brown, Dix & Eaton COO and CFO, assumes those same responsibilities for the combined company, while Julie Steininger, who was Standing Partnership minority owner, now serves as Executive Vice President. This group comprises the executive cabinet for the combined organization.
The two companies have been collaborating for more than a decade via their memberships in Worldcom, a global consortium of public relations and marketing firms. Both firm names will remain in place, based on the significant equity each possesses among clients, and within vertical markets and service areas.
"Both organizations see this deal as a transformational opportunity to build on our deep dedication to the success of our clients, our proud histories, our distinctive cultures, our commitment to our teams and the communities in which we operate," Withers said. "It lets us not only preserve the core tenets that have defined both our organizations but layer our strengths in an employee-owned format where every single person directly benefits from our success."